Equestrian Services
From Sharnford Lodge
We provide a high quality range of equestrian related services here at Sharnford Lodge, which include:
Rug Cleaning & Repairs
It is important to keep your horses rug in the best condition possible, as you would your own equestrian clothing. Our horse rugs cleaning and repair services are available to horse owners and stables in the Leicestershire area. We clean any size / type of rug here on site for a very reasonable price. We also send rugs away to a local saddler who does high quality repairs on any rug.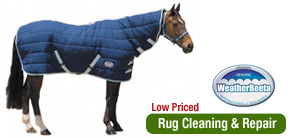 Local Van Deliveries:
We run a delivery service, mainly feed to local and surrounding areas, even offering a discount on bulk orders of shavings! Give us your address during a purchase and we can arrange to have it delivered - something very useful for large amounts of stock. We mainly cover the Leicestershire area for deliveries.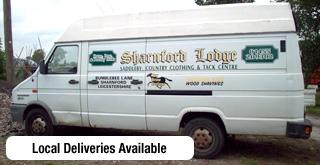 DIY Livery Yard:
We have recently built American barn-style indoor livery yard, which at the moment consists of 8 boxes, and with the 30 acres of grazing land, excellent hacking across fosse meadows and a ménage, it is a great place to be a livery.
30 acres grazing land
Menage hire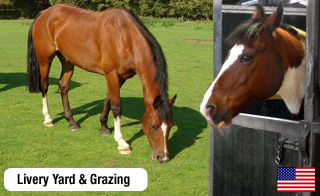 Ménage:
We have a very nice 50mx25m floodlit ménage that is available for hire at an hourly rate. We charge low prices for hiring out our menage.
Floodlit sand ménage 50mx25m
Jumps available
Available for hire subject to availability
Contact us for hourly rates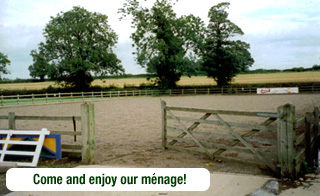 Leatherwork Repairs:
Saddles and other types of leatherwork on a horse become worn over time. Both rider and the horse must be comfortable and safe, and the saddle must fit correctly. We send all saddles and other leatherwork to an experienced local saddler who takes about a week to repair your leatherwork to a high standard. You may also be interested in our Jodhpurs and riding boots for added comfort.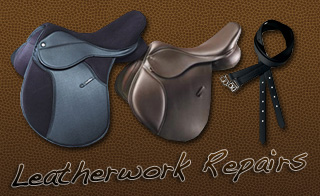 Show Jumps:
We have wooden show jumps for sale which are hand made on site. These are made and painted to your own specific style and are extremely reasonably priced.